This afternoon (August 26), after meeting with Vietnamese and foreign media, US Vice President Kamala Harris arrived at Noi Bai Airport and concluded an official visit to Vietnam for three days.
According to the schedule released by the U.S. Vice President's Office, Harris' Air Force Two left Vietnam at about 6:20 p.m. In the middle of the road, the plane will stop in Guam to refuel.
Leaving Vietnam, Harris will travel to Honolulu, Hawaii, to meet with soldiers from Pearl Harbor-Hickam Joint Military Base.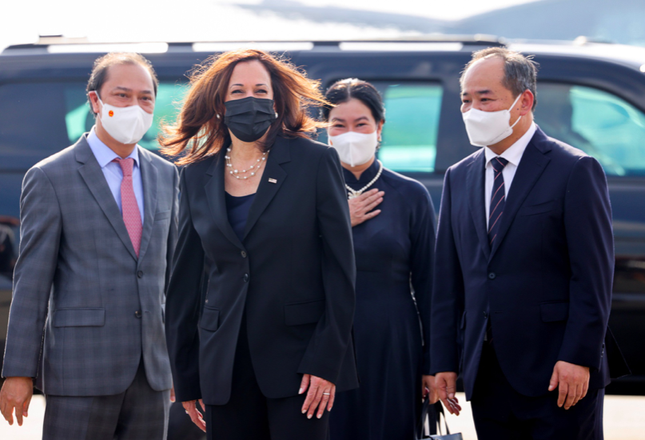 U.S. Vice President Kamala Harris ends her visit to Vietnam. Photo by Reuters
After a two-hour stop in Honolulu, the vice president's flight continued on its way to San Francisco, California.
In a speech to the press this afternoon, U.S. Vice President Kamala Harris said the visit opens a new chapter in the relationship between the United States and Vietnam.
"The relationship we have with Vietnam is a real relationship built on understanding each other's shared desire to strengthen the country's economic and security position, as well as our ability to meet the challenges of tomorrow."
The U.S. Vice President visited Vietnam from Aug. 24-26, with meetings with President Nguyen Xuan Phuc, Vice President Vo Thi Anh Xuan and Prime Minister Pham Minh Chinh to discuss bilateral and regional issues.
The vice president is also expected to open the U.S. Centers for Disease Control and Prevention's (CDC) office in Southeast Asia and witness the signing of a land lease agreement to build the new headquarters of the U.S. Embassy in Hanoi, a project with a total budget of $1.2 billion with a 99-year lease term.
This morning, Harris went to the Central Institute of Hygiene and Epidemiology, witnessing the delivery of 270,000 of the nearly 800,000 doses of Covid-19 vaccine delivered to Vietnam since yesterday.
FROM : vietnamnet.vn